Bunting for Others
Since some people read on my blog that a friend has asked me to make something for her she saw at my house, I already got two requests to make something for them, too! Great honor when people like the things you make so much that they want them for themselves, don't you think?
One of the things someone asked me to make is this bunting. Not something she saw on this blog, because I made this a couple of years ago and my blog is only one and a half year old, but something that hung from the trees at my daughter's birthday party this summer.
She told me the colors and fabric patterns she wanted, I made a sample and after her approval I sewed the bunting.
www.betweennapsontheporch.net
~*~
Barbara from Busy Life, Busy Fingers featured me again!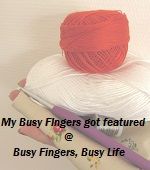 ~*~
And there's another one who featured me again: Andrea from The Cottage Market!
She featured my Velours Dress with Crochet Roset.
Thanks again, Andrea!